Local high school seniors work to help clean up from Hurricane Maria
June 12, 2019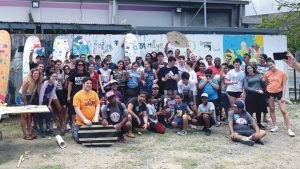 Last month, 15 graduating seniors from the Frisch School in Paramus went to Puerto Rico with NCSY, the Orthodox Union's youth group, to help with relief efforts.
"It was a great time," Noah Rothner of Teaneck said. "We landed and did some touring in the rain forest. Then I spent the next two days tiling a house that was damaged by the hurricane." That was Hurricane Maria, which hit in September 2017.
"It was nice to help out and do something," Noah said. With graduation looming, and all the mixed feelings that arouses, "it helped me feel better about myself."
After laying down tile and grouting, his group spent Shabbat mostly at the Chabad of San Juan. And then on Sunday they went to a youth center, where they helped kids make surfboards and then went with them to the beach.
Noah had taken two years of high school Spanish. "I was able to say, "Hi, what's your name, and how are you.'"
The Spanish was helpful — "though they definitely spoke more English than we spoke Spanish. The language barrier wasn't so tough." Noah and his friends took the opportunity of a van ride to the beach to introduce the Puerto Rican kids to the music of Mordechai Shapiro, an Orthodox Jew who sings reggae-inflected Hebrew songs on topics such as the reward of performing mitzvot. "It was a good time," he said.
Hannah Karben of Pomona agreed that the trip was "amazing."
She was part of a group that worked to prep a house for painting. "We scraped all the loose paint that happened because of water damage," she said. "We washed the house so it was clean."
She also spent a day helping on a farm. "It was very fun. We planted coconuts and corn and trees." Her two years of Spanish didn't help so much with the kids at the youth center on Sunday. "I didn't really remember it that well," she said. "We just used hand motions.
"It was easier for the boys to hang out with the kids — they did sports with them."
Besides making surf boards, they also painted a mural on the youth center. Then they went to the beach together.
The Puerto Rican teens "all have a negative outlook on Americans," Hannah said, because of the failure of the United States to aid Puerto Rico, which is a U. S. territory, and whose citizens are U.S. citizens. (Just last week, after a great deal of political turmoil, the president signed a bill granting emergency aid to the island.) "We showed them that people in America still care about them, that they're not alone."
She said that "it was a great way to end my senior year. It definitely gave me a perspective and appreciation, that a lot of people don't have everything I have."
That, says Rabbi Ethan Katz, was a key goal of the trip.
Rabbi Katz is director of NCSY's New Jersey region. He led this trip, his seventh to Puerto Rico, for NCSY. The idea of bringing NCSY kids to provide post-disaster relief came to him in the wake of Hurricane Katrina. That first trip, to New Orleans, was 13 years ago.
Rabbi Katz credits the Israeli army, where he spent 20 years as a paratrooper, for inspiring the NCSY missions. "The Israeli army sends people to help after tsunamis and hurricanes and earthquakes," he said. "After Hurricane Katrina hit, I started talking to TABC," — the Torah Academy of Bergen County, the boys' high school in Teaneck. "Wouldn't it be great to bring a group of teens to New Orleans to help? It was a one-time trial thing, and it it worked out fantastically. From there it kept building."
All told, New Jersey NCSY has led more than 100 of these missions. "It caught on big in the past five or six years," he said.
And next month, Rabbi Katz will take up a new post at NCSY, as its national director of relief missions. He expects to continue running 15 missions a year from New Jersey, supplemented by another 15 from across the country.
"We're trying to create future Jewish leadership," he said. "We want to teach the kids what it means to make the world a better place, in the name of Judaism and in the name of God. The entire Jewish community is run by volunteers. Shul boards, school boards. We're trying to create future volunteers.
"We're trying to create people who are much more aware of poverty. Growing up in Teaneck, you don't know that poverty exists. I'll ask kids, 'Do you know people who can't afford food?' They'll say, 'Of course not.' I say, 'Where does the food donated for Tomchei Shabbos go to? To people in your class who can't afford it.'
"'How many of you have had tutors and parents who help you with your homework?' The answer is all of them. 'Do you think the kids in Puerto Rico have the same opportunity you have?' Is it really true that everyone is born equal? They're not given the same opportunity."
He said moments of insight happen all the time on these trips.
"Most kids write their college essays about these experiences. We have hundreds upon hundreds of quotes, saying that it's the most impactful Jewish experience of their life. There are a lot of wow moments from being an engaged Jewish superhero, learning what it means to be a kiddush Hashem," a sanctification of God's name.  "We worked with a guy who aside from us never met Jews. He grew up in Tennessee and had no reason to know that Jews exist. Now, all he knows about Jews is that Jews go out to help people in need.
"I never get bored of it. Every time it's a new team and a new excitement. Teens are amazing. When you challenge them they rise to the occasion. It never ceases to amaze me how our children, who you might think are spoiled suburban kids, get up to do farming when you say that have to be up at 6 a.m. because that's when the farming day. They're up and excited to help other people.
"It's such a credit to how we're raising our kids that this is what they want to be doing."